MYHAT IN EGYPT: THROUGH THE EYES OF A GOD
By

ALUN BUFFRY BSc, Dip Com (Open)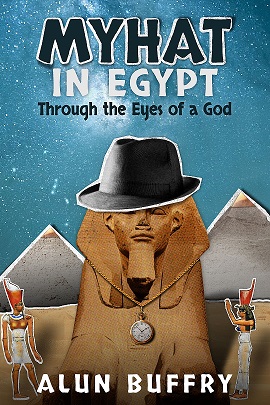 ** AVAILABLE THROUGH AMAZON ISBN 978-0-9932107-7-8 **

And on KINDLE
PLEASE GIVE THIS PAGE A TWEET AND A GOOGLE + VOTE
Giuseppe A, India: "I started reading Myhat in Egypt by Alun Buffry expecting something quite different from Alun's first novel, All about Myhat, and at first I was slightly disappointed because it looked like Myhat in Egypt followed the same pattern as All about Myhat, i.e. a good story, but interspersed with lots of travel brochure like information about the various places encountered during the narration. Half way through the book, though, it all changed, and I was captivated by the unexpected and thrilling direction the story was taking.
All in all Myhat in Egypt is a good novel, well crafted, and one that should not be missed."
Giuseppe Albero is the author of A Forest Full of Monkeys and Barefoot in the Himalayas.

Chris P, Essex: "Having met "MyHat" in 'All about My Hat , the hippy trail' , I am delighted to learn of new adventures in 'MyHat in Egypt through the eyes of a god'. Mr Buffry writes with humour and eloquence, transporting the reader through time and space into the magical world of MyHat.
YOU CAN ORDER A SIGNED COPY HERE

A journey to Egypt, a journey through time and space as told by Myhat who witnessed and saw through the eyes of a God. Set in 1989, 1990, 2010 and 4000 years ago, in Egypt's Twelfth dysasty

Before I tell you about my incredible adventures, I must explain that I am a Fedora hat!

I am no ordinary hat. I am able to see, hear, smell, feel and even taste through the senses of the person wearing me. In fact, I can pick up on their thoughts, memories, dreams and even fears. I watch, listen and remember.

In 1989, I first travelled to Egypt on the head of Ed, accompanied by Ana; we made three journeys to that land.

This is my tale of what happend as we travelled through space and time.

Now I know that I am much more than a hat: I am a God, for I have seen the world through the eyes of The Divine..

Let me tell you how that came to be.

... later, much later, or maybe earlier...

They continued along the main corridor until they reached another chamber which was blocked off on all sides; the way they had come was the only way in and out of this chamber. It was blocked by what looked like a large bolder, put there almost deliberately, thought Ed, and on the bolder was an inscription. As the duo shone their torches on the inscription, Ana said that she would try to read what it said.

"Something about danger of death from what has gone before... that the great must rise towards the skies but only the Just will prevail. This is Anubis, the jackal-headed god of the dead," she said.

"Look there is Ra, shining upon the king."

"There's not much else here," said Ed; "let's head back and check out the side-rooms and corridors. We haven't been here even an hour yet," I guess.

"OK," said Ana, "but first can we just turn off the torches and sit for a while, see what it feels like. I think that inscription could be thousands of years old, judging by the style."

So they turned off their torches and sat quietly in the dark for some minutes.

"It's not completely dark," said Ed suddenly, "I can still see your outline. Look there! There's some light seems to be coming from behind that boulder: maybe there's another tunnel! We may have somehow linked up with one of the tombs that is open to the public and has electric lighting in its corridors."

"Well, we've been in here for almost an hour, I reckon but I don't think we've moved far enough to be anywhere near the Valley of the Kings yet. I can't get a signal on my phone, even the clock isn't working, but we're under a big hill so I am not surprised. I wonder if we can climb up and look through?" said Ana.
=======================
FROM DOT TO CLEOPATRA BY ALUN BUFFRY: PAPERBACK AND KINDLE
OUT OF JOINT: 20 YEARS OF CAMPAIGNING FOR CANNABIS - PAPERBACK AND KINDLE
ALL ABOUT MY HAT: THE HIPPY TRAIL 1972 - PAPERBACK AND KINDLE
DAMAGE AND HUMANITY IN CUSTODY BY ALUN BUFFRY AND WILLIAM D HUTCHINSON: PAPERBACK KINDLE
TIME FOR CANNABIS: THE PRISON YEARS: 1991 to 1995 - PAPERBACK AND KINDLE
CANNABIS: CHALLENGING THE CRIMINAL JUSTICE SYSTEM BY DON BARNARD AND ALUN BUFFRY
A BRIDGE PLAYERS' MANUAL ESPECIALLY FOR BEGINNERS - BLEEDING TRUMPS
ALUN BUFFRY PHOTOGRAPH GALLERY