MYHAT IN EGYPT: THROUGH THE EYES OF A GOD
By

ALUN BUFFRY BSc, Dip Com (Open)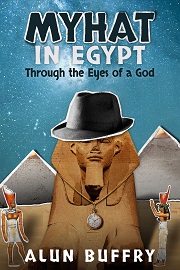 ** AVAILABLE THROUGH AMAZON ISBN 978-0-9932107-7-8 **

And on KINDLE
PLEASE GIVE THIS PAGE A TWEET AND A GOOGLE + VOTE
Giuseppe A, India: "I started reading Myhat in Egypt by Alun Buffry expecting something quite different from Alun's first novel, All about Myhat, and at first I was slightly disappointed because it looked like Myhat in Egypt followed the same pattern as All about Myhat, i.e. a good story, but interspersed with lots of travel brochure like information about the various places encountered during the narration. Half way through the book, though, it all changed, and I was captivated by the unexpected and thrilling direction the story was taking.
All in all Myhat in Egypt is a good novel, well crafted, and one that should not be missed."
Giuseppe Albero is the author of A Forest Full of Monkeys and Barefoot in the Himalayas.

Chris P, Essex: "Having met "MyHat" in 'All about My Hat , the hippy trail' , I am delighted to learn of new adventures in 'MyHat in Egypt through the eyes of a god'. Mr Buffry writes with humour and eloquence, transporting the reader through time and space into the magical world of MyHat.
YOU CAN ORDER A SIGNED COPY HERE

A journey to Egypt, a journey through time and space, as told by Mhyat, a Fedora, who witnessed and saw through the eyes of a God. Set in 1989, 1990, 2010 and 4000 years ago, in Egypt's Twelfth dysasty

Before I tell you about my incredible adventures, I must explain that I am a Fedora hat!

I am no ordinary hat. I am able to see, hear, smell, feel and even taste through the senses of the person wearing me. In fact, I can pick up on their thoughts, memories, dreams and even fears. I watch, listen and remember.

In 1989, I first travelled to Egypt on the head of Ed, accompanied by Ana; we made three journeys to that land.

This is my tale of what happend as we travelled through space and time.

Now I know that I am much more than a hat: I am a God, for I have seen the world through the eyes of The Divine..

Let me tell you how that came to be.
=======================
FROM DOT TO CLEOPATRA BY ALUN BUFFRY: PAPERBACK AND KINDLE
OUT OF JOINT: 20 YEARS OF CAMPAIGNING FOR CANNABIS - PAPERBACK AND KINDLE
ALL ABOUT MY HAT: THE HIPPY TRAIL 1972 - PAPERBACK AND KINDLE
DAMAGE AND HUMANITY IN CUSTODY BY ALUN BUFFRY AND WILLIAM D HUTCHINSON: PAPERBACK KINDLE
TIME FOR CANNABIS: THE PRISON YEARS: 1991 to 1995 - PAPERBACK AND KINDLE
CANNABIS: CHALLENGING THE CRIMINAL JUSTICE SYSTEM BY DON BARNARD AND ALUN BUFFRY
A BRIDGE PLAYERS' MANUAL ESPECIALLY FOR BEGINNERS - BLEEDING TRUMPS
ALUN BUFFRY PHOTOGRAPH GALLERY